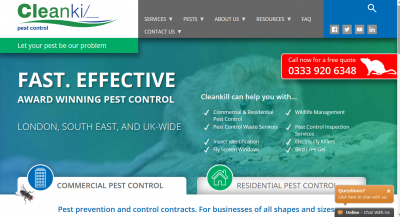 We had a problem.
Over the years we have found our branding has stood us in good stead. I've heard comments like 'clear', 'professional' and 'no nonsense'. People recognise our branding and, dare I say it, they have learned to trust and appreciate it as a symbol of efficiency and effectiveness.
The Cleankill family has now grown and Good Riddance Pest Control in Bristol, Pest Control Bucks and Bird Control Sussex must all be incorporated into the family brand. Over the years, each company has built up an impressive reputation. We had to be careful therefore that, in bringing them into the Cleankill family, we didn't lose any of that goodwill.
So, there was our dilemma – how do we add the caché of being part of the Cleankill family to each of these businesses without losing the goodwill of the people who already appreciate the quality work they do?
Obviously, the full answer is through lots of hard work and that is what we are undertaking. In the short term, however, the first visible sign was a rebranding in the Cleankill style. As part of this, we spoke to our internet experts Qdos Computer Consultants and AdJuice SEO Services Ltd to look at the best ways to integrate the companies online.
Working with these companiesfor several years, I have come to understand the importance of constantly adding new online content. At the same time, merely replicating the same content on each of the company pages would be negative. Afterall, whether you are in Weston-Super-Mare or Margate, a rat is a rat and the way we deal with them is broadly the same (obviously taking into account local factors).
This is all to do with SEO - Search Engine Optimisation. With our online presence, this is what we are always considering. In today's business environment, many referrals come via the internet. We therefore want to be at the top of the list whenever someone types something like – Croydon pest control or Bristol rat infestation solutions. This requires us to be always ahead of the game. We are under no delusion; our serious competitors are engaged in this battle just like us.
Re-brand
The first task was to redesign the logos for each of the new companies using the Cleankill logo template.
Once those had been completed, work began on the redesigns for each of the websites. To avoid unnecessary replication, which is very bad for SEO, each company has its own landing page, but the central content is consistent.
Social media  
In this day and age, you can't underestimate the importance of social media. It is a great way to get a message to your customers and a good way to reach new customers. It is, however, time-consuming and you do have to be careful. I have seen professional pest controllers send out social media messages with spelling mistakes in the names of pests. If they can't spell rat or cockroach, that doesn't inspire confidence in their ability to remove the pest from your property.
At the same time, to err is human and the occasional mistake is normal. People are, however, more likely to make these mistakes if they are always in a hurry and the social media work is just being fitted around other work. 
With multiple businesses came the problem of multiple social media accounts. It was interesting to us that none of them had the same breadth of social media coverage that Cleankill does and they certainly weren't updated as regularly as ours.
You may think this doesn't make a difference, but it does. I was recently asked to give a presentation to some local business leaders and, just before I went on, the man running the session remarked how impressed he was that the event was front and centre on our social media feeds. We've all seen websites where the content isn't updated. Restaurants seem to be especially bad at changing and removing out-of-date content – the Christmas party menu visible all year and only changed in November. To me, this always looks like the restaurant isn't concerned with detail – something I consider very important when it comes to food preparation.
The decision was therefore taken to close down all social media sites for the three new companies. Before we did this, we looked at the followers of each site and tried to ascertain if it would have a negative impact. Since new content was often sporadic and interaction was very limited, it was felt there would be very little negative impact. On all the social media sites, an invitation to follow the relevant Cleankill social media site was posted and pinned.
The first visible sign of integration is therefore complete. The new websites not only look great and provide useful information to the general public, they also clearly bring each company into the Cleankill family. 
We like it, we hope you do too!
To learn more about the Cleankill family:
To view the webpages, click below: