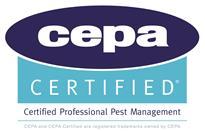 Cleankill Pest Control has become the 14th pest control company in the UK to be certified BS EN 16636:2015 – The Management of Public Health Pest Species Including Bird Control. Receiving this accreditation confirms that Cleankill has the correct systems in place to deliver first-class, safe and efficient pest control services in the United Kingdom. Certification runs from 24th March 2016 until 23rd March 2019, with an interim audit during the middle year.
The new European Quality Standard, EN 16636, has been developed by the Confederation of European Pest Management Associations (CEPA), with support from the British Pest Control Assocation (BPCA). The certificate, launched in March 2015, is audited in the UK by Bureau Veritas Vertification Ltd.
To achieve this certificate, the company had to undergo an audit which looked at: management system documentation; effective implementation; competence and training; client and site risk assessment; pest management planning; management of site waste; and, management of pesticides and equipment. This is a complete audit of our services, from enquiry through to execution, and is known as EN 16636 process flow. Cleankill passed without any 'non-compliances'. This accreditation gives confidence to customers and potential customers that Cleankill operates to the highest standard.
When a company has been running successfully since 1995, showing considerable growth and winning numerous awards, it is easy for the directors to become complacent. When Cleankill was originally founded in 1995, it was with the expressed intention of delivering first-class customer focussed service. The directors have seen, that as the business has growth, it has been very useful to get the correct certifications to authenticate their work. They have also never been too proud to seek the advice of external experts in order to ensure that their business is currently delivering, and can continue to deliver, outstanding service.
By becoming only the 14th company to receive this certificate, Cleankill has again proved that it is at the forefront of modern, efficient pest control in the UK. To look at a list of some of their certificates, click here.