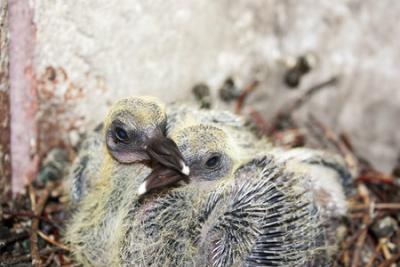 A customer has praised a Cleankill technician for the way he handled a sensitive situation involving two pigeon chicks.
Cleankill was contacted by the Health & Safety Manager of a London factory about the pigeon chicks which were 10 to15 days old, They had been discovered in a box in racking outside the premises.
The customer was delighted when the technician managed to safely and quickly remove the chicks and find them a home after calls to a number of organisations.
The customer said: "The service was absolutely amazing and very prompt with the technician arriving on site within an hour of my call.  He acted very kindly. He is the most humane professional that I've ever me and proved there are still kind, compassionate individuals surviving in this massive world."
Quality, Technical and Training Manager for Cleankill Chris Davis added: "After making calls to lots of pet shops and vet practices our technician managed to get them into safe hands. They are now being looked after until they are adults.
"I am really glad that we have achieved a successful outcome while causing as little distress and destruction as possible."
Cleankill Pest Control was named Green Business of the Year in the Gatwick Diamond Business Awards 2017.
ENDS