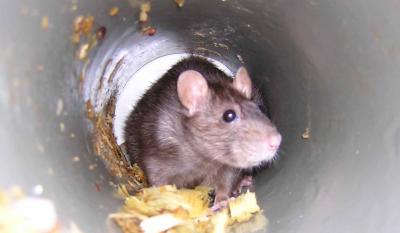 The lockdown has resulted in an increase in calls from residential premises to a London pest control company as people are spotting furry intruders and insects that would often go unnoticed.
Managing Director Paul Bates of Cleankill Pest Control says the mental health implications of having an infestation during lockdown when you can't leave your home can be quite serious for some.
He explains: "It's bad enough having a pest problem during normal times but usually people can get out of the house or go off to work and can escape the problem.
"Hearing constant scratching or pests running about in your roof space is really stressful along with the worry of not knowing what damage they are doing and whether they are gnawing through cables. Rats are also appearing in people's gardens especially in urban properties as there is less food being discarded in the streets. This means the rats are having to explore new territories to find food."
As well as rodents, people have been calling about clothes moths which they might not otherwise have spotted if they weren't in their homes 24 hours a day. People are also finding time to tidy cupboards and loft spaces and uncovering pest problems that have been hidden.
It's also the time when pigeons and gulls are starting to arrive and nest on balconies or enter roofspaces, presenting a health risk to residents who are forced to spend more time in their own outside spaces during lockdown.
Squirrels are starting to breed and are expert at gnawing through soffits and fascias and accessing lofts where they will nest while potentially damaging wiring and rafters.
There has been an increase in calls about stored products infestations as people try to use up old ingredients at the back of cupboards, or sort through packets of dried goods only to be horrified to find the contents inside moving on its own.
"It's particularly organic products that tend to have infestations as they haven't had any treatment with pesticides. With the huge increase in organic products, we've received many more calls about insects like flour mites and biscuit beetles. In the past products would be treated at source or in a warehouse, but this isn't permitted with organic produce.
"We're also seeing things like weevils in dog food – evidenced by very small holes in the bags and the biscuits," Paul added.
Although you might think it will save you money says Paul, don't try to tackle pest problems yourself particularly where rats, mice, birds or squirrels are concerned.
"Rats and squirrels can be quite aggressive and getting rid of the creatures requires a lot of knowledge and expertise. If you call a professional, they should be able to get rid of the problem safely, humanely and quickly. But if you buy off the shelf products it is hard to know without training the correct dosage or the best location to use them in. You could also endanger children, pets and wildlife. It's also more likely that the problem will return and cause further stress," Paul said.
Cleankill Pest Control has been providing pest control services to London and other parts of country since 1995. Set up by former Rentokil employees, Cleankill was founded upon the desire to create a company that placed customer service, respect for the environment, care for the community and staff development on an equal footing with profitability.
Cleankill Pest Control deals with 'distress' pests such as wasps and fleas, as well as preventative maintenance against public health pests such as mice, rats, cockroaches and birds. The company prides itself on fast and efficient service delivery and aims to be recognised as a market leader for innovation, 'green' and new pest control techniques. Cleankill is also a licensed waste remover.
ENDS
For more information, contact Suzi Christie on 07590 591140 or e-mail [email protected]